Androgynous Alternatives To Gowns and Dresses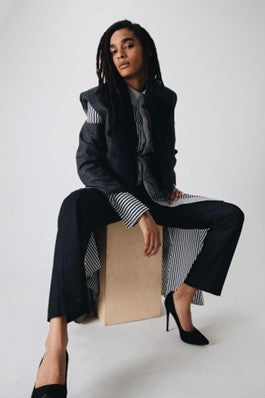 If you're on the hunt for formal clothing but aren't really into gowns and dresses, fear not. There are plenty of androgynous clothing alternatives out there to suit your own style, tastes and needs. You just need to know where to start!
Keep reading on for everything you need to know about androgynous alternatives to gowns and dresses.
Tailored shirts
Tailored shirts aren't only for finance employees working an office job. They're for dinner parties, art gallery openings, running errands – basically anywhere you want to look polished and fashionable while retaining a genderless theme.
Tailored shirts are made to fit you like a glove, ensuring you don't have to deal with any awkward bits of fabric that change your shape or make you feel uncomfortable. And better yet, they're made for anybody and everybody. Who doesn't look good in a tailored shirt?
Wide leg pants
Not everyone likes or feels comfortable in a gown or dress. When you're on the quest for formal attire, it may feel like the traditional options out there don't suit your overall tastes and identity. So how can you find androgynous formal apparel that works for you when dresses aren't your thing?
Enter: wide-leg pants.
Wide-leg pants flatter nearly every body type and make for a stunning alternative to gowns and dresses. They can be paired with tailored shirts, custom blazers, stunning knitwear and more.
Wide-leg pants are chic, and bold and will leave you looking like a fashion icon. They look great with nearly every shoe out there and can be customized to your liking.
Neutral colors
Androgynous clothing is designed to avoid traditional male or female distinctions. They embrace non-binary identities and are created to be worn by everyone.
When looking for androgynous alternatives to gowns and dresses, try looking for neutral gender-inclusive colors. This includes staple colors such as black, white, beige, grey, yellow, green, orange and light browns. Whether you're shopping for a bespoke suit or tailored shirt, opting for muted and minimalistic colors helps preserve your identity while looking fashionable and chic.
Androgynous alternatives to gowns and dresses
There's nothing worse than wearing something that makes you feel uncomfortable. So why not stay true to yourself and find a killer androgynous alternative that suits your styles and needs with us? When you feel good, you look good.