Couture, Meet Power Suit
When people hear the word couture, they immediately think of beautifully-crafted gowns worn by the 1%. In actuality, couture simply refers to the design and creation of clothing specific to a client's measurements and tastes. These garments are often hand-crafted with meticulous attention to detail and luxury materials like lace, feathers, and beads.
Suiting is far from the first thing that comes to mind when people think couture. Maybe because the idea people have of suiting as predominantly male and professional, or perfunctory even, stands at odds with the exquisite delicacy associated with women's evening wear.
We at The Tailory are looking to change that with quality made to measure clothing, one Swarovski crystal at a time. Why should suiting be incompatible with our notions of evening elegance and beauty? There's something to be said about combining the aesthetic sensibilities of time-honored couture techniques with the inherent power of an expertly-tailored suit. So why not treat a power suit with the same reverence as we do a ballgown?
We present to you…the embellished suit! The process starts out as it would with any suit: pick a fabric, design your suit, and have your measurements taken for the perfect suit. What happens next is entirely up to you.
Based on reference photos and your own vision for what your suit embellishments will look like, we'll source crystals, beads, and/or trims for you to choose from. Next, we'll lay them out on the jacket to achieve the desired effect. A cascading gradient effect on the shoulders and/or lapel is our most popular design commission, as seen here: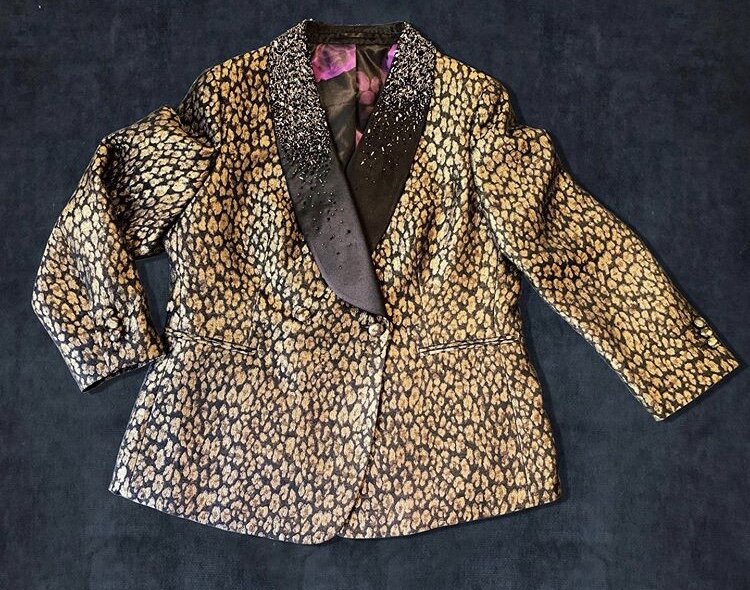 The glitzy gold and copper embellishments go around the shawl lapel on Jess's jacket to cascade in the front. The design inspiration for this suit was Art Deco meets Liza Minnelli.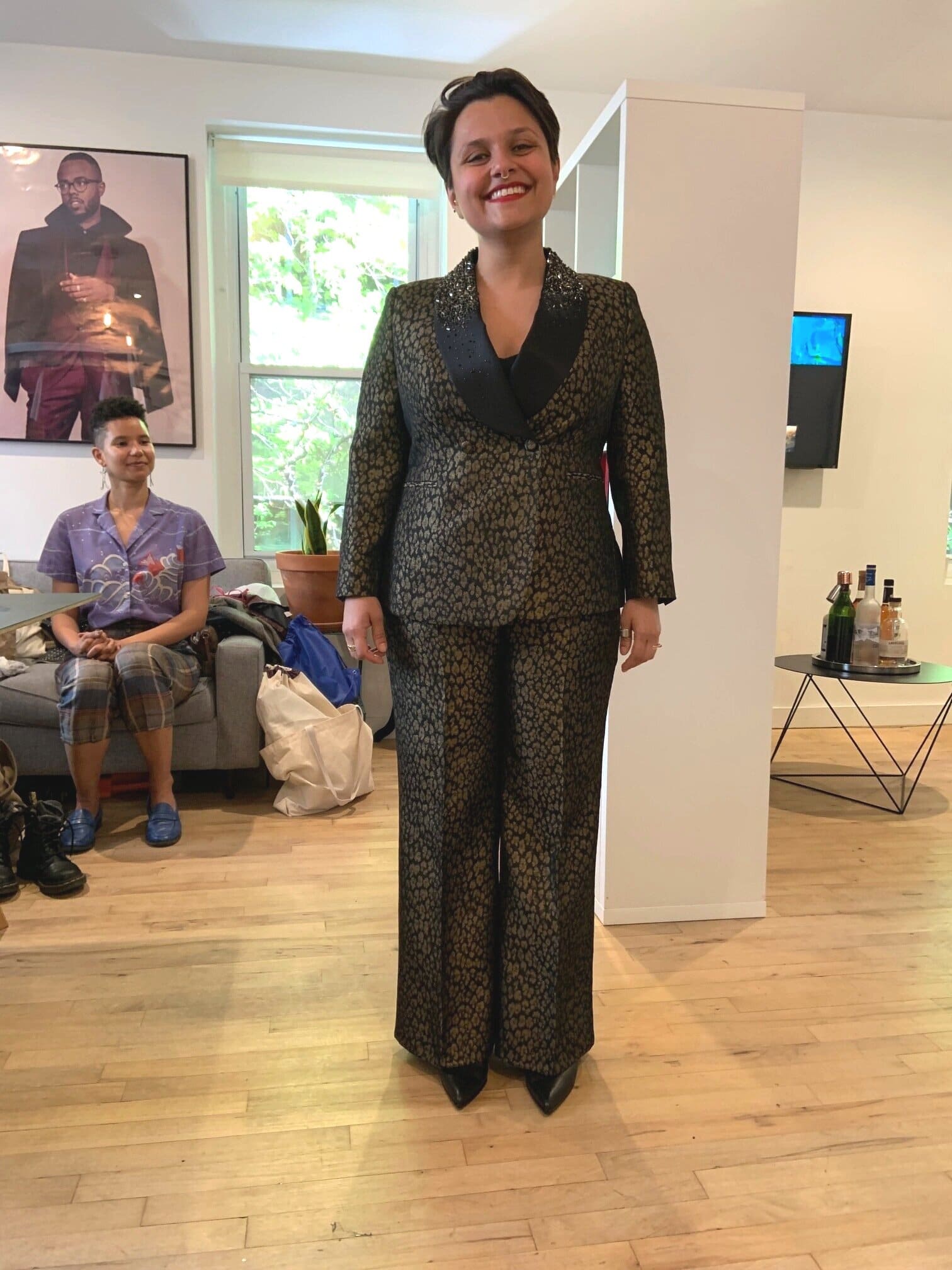 The jacket below took over 150 hours of hand-beading to embellish. Geometric chunky beads, exaggerated studs, and black lace collar and sleeves all work together to create a gritty yet glam punk rock effect. This is probably the most ornate embellished suit we have created thus far.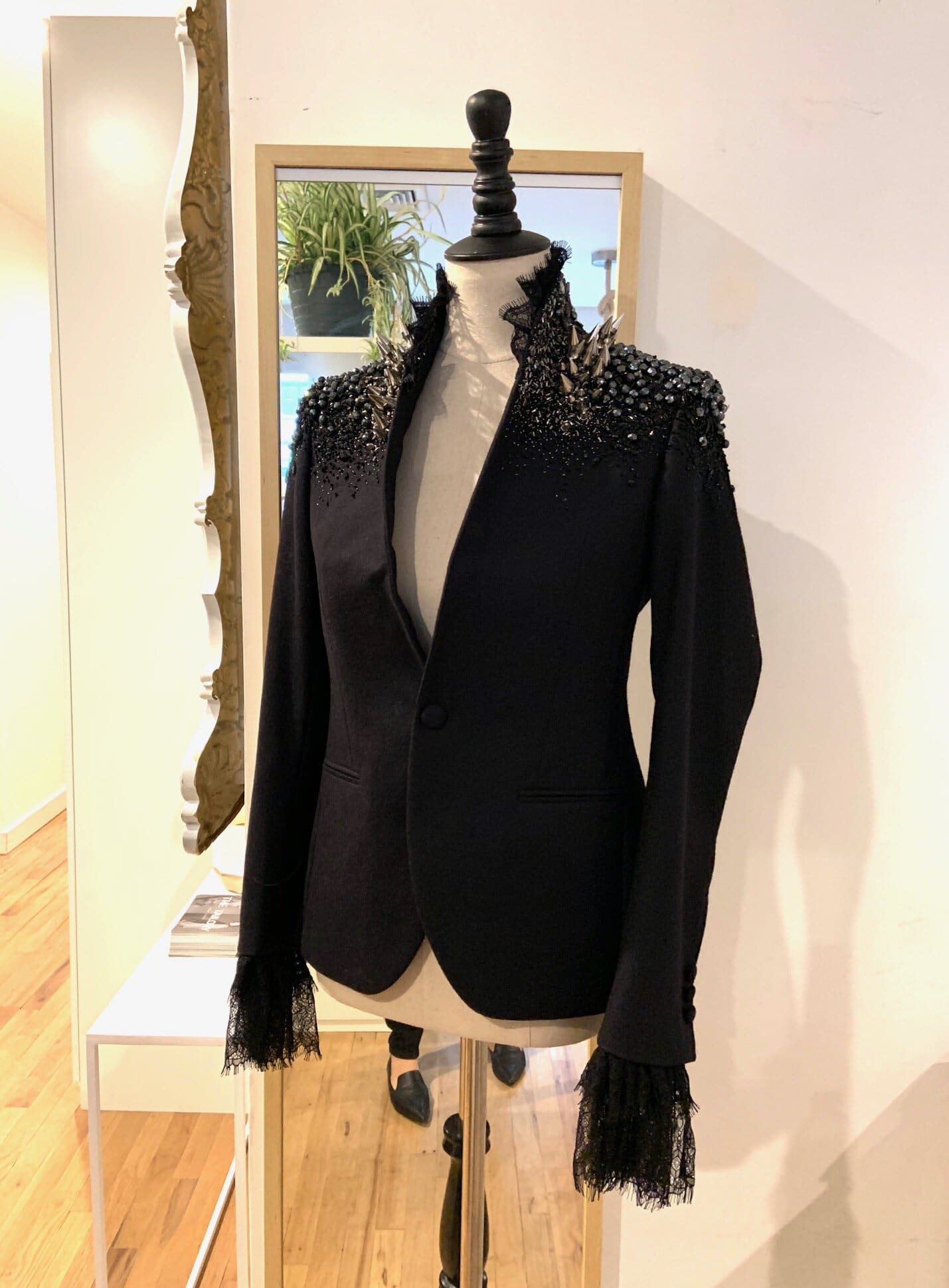 The embellished kimono suit below was commissioned by a client for a wedding. The beautiful crystallized effect was achieved using an assortment of hematite and clear Swarovski crystals in a variety of sizes. Talk about a show-stopping power suit!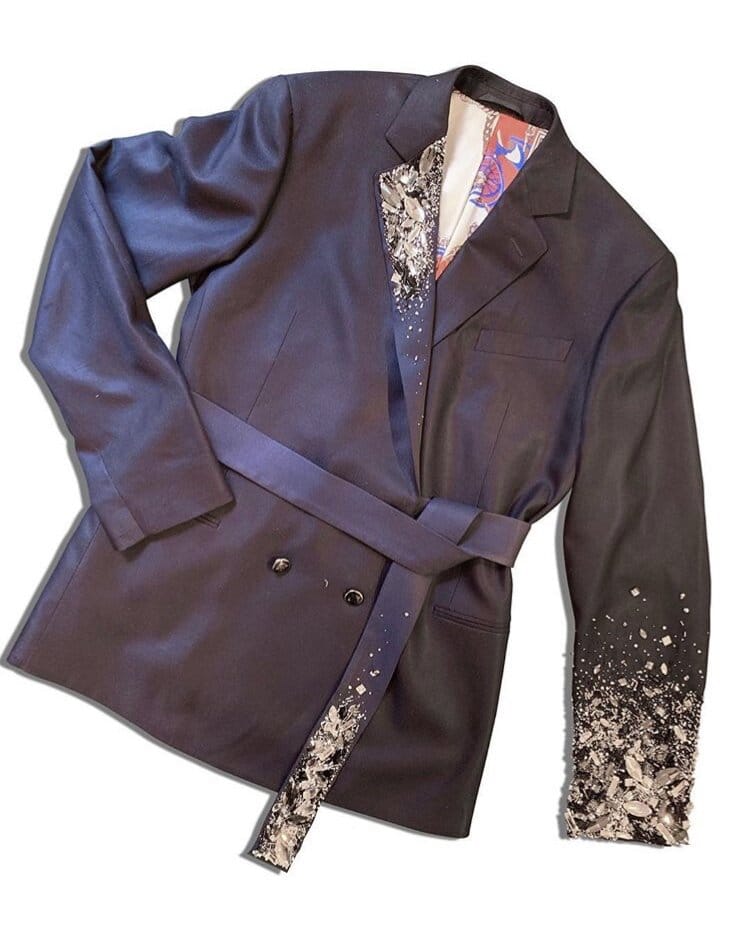 Create your very own custom embellished power suit by booking an appointment through the link below!