LOS ANGELES POP-UP
Are you ready to suit up in jaw-dropping, affirming custom tailored style? Our founder and creative director will be popping up in LA and taking on one-on-one design appointments. First time getting something custom? We make the process as seamless as possible. Schedule your appointment below and we can't wait to design something that is uniquely yours.
OUR CUSTOM CREATION PROCESS
Custom clothing can be a little daunting for first-timers, but we try our very best to make the process as seamless as possible.
THE FINEST CUSTOM SUITS IN NYC AND LOS ANGELES
The Tailory New York is an appointment-only, women-owned, and operated bespoke clothing company that combines modern fashion design with the heritage art of custom tailoring.
We believe that custom suits are genderless, and pride ourselves catering in equal measure to men, women, and non-binary individuals. Custom suits can convey a specific identity or image to the world around us. When designing a suit, we always ask ourselves: Who is the wearer, and where will they be wearing their suit? What are they trying to communicate to the world around them? And how can we create a suit tailored to their unique style, physique, and gender identity and/or presentation? Our ability to wield the power of fashion to meet the singular needs of each of our clients sets us apart from other custom clothiers.
TAILOR FOR INNOVATIVE CUSTOM SUITS IN NEW YORK AND LOS ANGELES
While custom suits are typically associated with uniformity, we like to get creative (when possible!) when designing suits. Whether that involves playing with color blocking or selecting a funky patterned lining to give a classic navy or charcoal suit a sense of playfulness, we are all about innovating and looking to the future. Our clients are bold, ambitious, and accomplished, our hope being that the one-of-a-kind clothing we create, tailored to their bodies, design preferences, and lifestyles, will serve as an instrument for success, self-affirmation, and self-empowerment. Our clients inspire us everyday, encouraging us to keep disrupting the norm of suiting.
We are known for our masculine-of-center women's custom suits and cutting edge design
Giving our clients a silhouette that projects confidence, enhances their self image and overall affirms their identity and expression is what we strive to do everyday. Though people sometimes think of us exclusively as the makers of some of the most fashion-forward custom suits NYC has to offer, our offerings also include shirts, trousers, dresses, jumpsuits, and overcoats. That's right: all custom, never boring! We have earned a reputation for our fine quality and a dedication to uncompromising style.
CLIENT FEATURE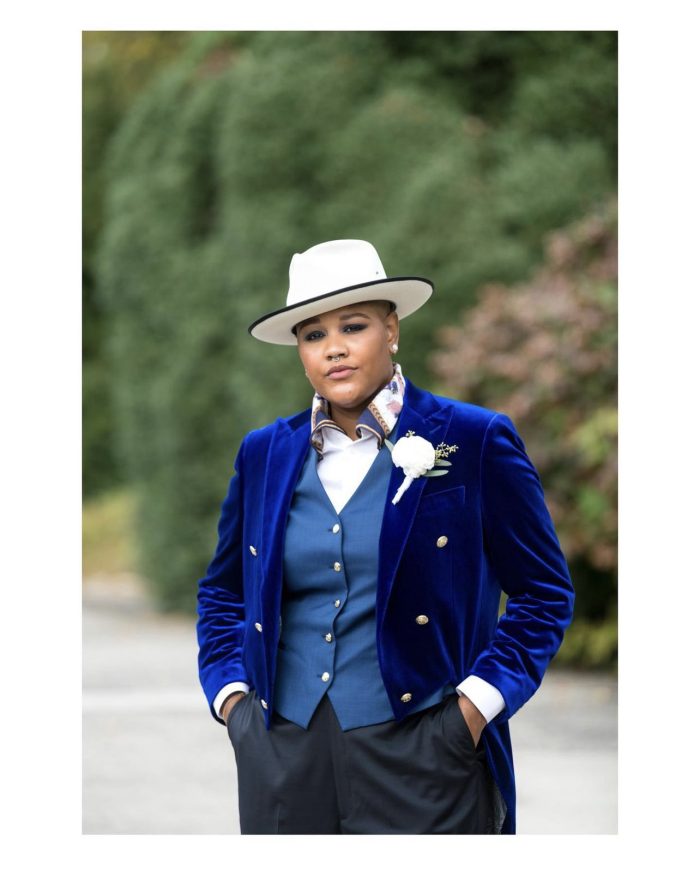 SILKE WEIL | GENERAL MANAGER
SHE/HER
Born and Raised in New Zealand. Silke immigrated to the US to chase her fashion dreams. You'll often find her starring in our IG Reels and Tik Tok videos.
TOBEY GOBER | OPS MANAGER
THEY/THEM
From retired ballet dancer to coffee connoisseur to the hard streets of New York fashion. Tobey fell in love with the ethos and DNA of The Tailory. They are your point of contact for anything logistics.
FLORENCE CANONOY | DESIGNER
SHE/HER
Florence graduated top of her class from Academy of Art in San Francisco. She moved to NYC to be in the center of the best fashion city in the world. Florence will be there every step of the design process.
The idea for The Tailory New York began when I decided to direct my years of fashion design and men's tailoring experience towards my own wardrobe. As a pantsuit aficionado and a lover of men's fashion and tailoring, I was always drawn to tailored clothing and strived to create fashion that conveyed the same message of confidence that a perfectly custom-tailored suit did for men.
Style icons like Sean Connery and Cary Grant, as well as modern-day 007 Daniel Craig (shaken not stirred), were always my style inspirations. To me, they are the epitome of refinement and sophistication, true gentlemen in style. My passion for fashion and tailoring led me through the Fashion Design program at Parsons followed by stints in custom tailoring, fashion design, fashion styling, and brand development.
But the more I integrated myself in the industry, the more I realized that impeccable fit, for men and women, was almost impossible to find in ready to wear clothing. So in 2013, I launched The Tailory New York as a way for me to combine my two passions: Fashion Design and Custom Tailoring. Everyone wants to look their best and having a wardrobe curated to your body and lifestyle not only enables you to look your best but makes you feel your best.
Let us curate and design the wardrobe fit for you!
Sincerely,
Shao Yang, Founder
CUSTOM WOMEN SUITS
How annoying is it that custom suiting has primarily catered to men, but off-the-rack isn't accessible to all body types? This isn't okay!
The only size you should be looking for is YOUR size, and The Tailory New York creates perfect garments tailored to the client's individual body.
Everyone who comes to us has a chance to personalize and embellish their designs to best express their personality and trust that it will fit and flatter their silhouette.
CUSTOM WEDDING SUITS AND OUTFITS
From understated to extravagant! From classic to modern!
Absolutely NOTHING is off limits and everything is attainable to make your wedding garments extraordinary. The Tailory New York team has yet to be faced with a style or design that can't be achieved, and we will be right there along the way to make sure the client is dressed to perfection for their big day!
*We advise starting the custom process at least 4-6 months prior.
CUSTOM ESSENTIALS
The key to designing a winning suit is remembering the finest details!
Getting to know the wearer's personality and what they are wanting to communicate to the world is the most certain way to deliver premium custom suits.
At The Tailory, we are committed to creating garments that best represent the client's unique style and physique to encourage them to flaunt their truest and most authentic self!
CUSTOM FEMME SUITS
Our philosophy is that everyone deserves a wardrobe that is designed with the wearer's personality and style in mind.
For custom femme suiting, we steer away from tradition as we play around with fit and design details to accentuate the natural curve of the client. A more elegant and softer silhouette forms as we strengthen the shoulders, cinch the waist, and taper the pant leg. Kicking expectations to the curb and achieving a look that is singularly YOU!
CUSTOM MASC SUITS
We believe the straight but fitted lines of traditional suiting should be accessible to all. The classic aesthetic is perfect for any and every formal or business occasion. A mid-rise pant and a sharp silhouette elevates the masc aesthetic associated with traditional suiting.
The Tailory New York is recognized for delivering custom tailoring that is singular and celebrated for its precision.
The Tailory New York - Custom Suits NYC
511 Canal Street
New York, NY 10013
Phone: 212-813-1014
CUSTOM SUITS FOR MEN, WOMEN,
& NON-BINARY INDIVIDUALS
For nearly a decade we have been delivering the finest custom suits New York has to offer. We have worked with hundreds of clients and have over 200+ 5 star reviews on Google.
Let us curate and design the wardrobe fit for you! We pride ourselves in delivering a fantastic customer experience and delivering custom tailored suits that really reflect your personality so that you feel excited and amazing from start to finish.
When designing a suit, we always ask ourselves: Who is the wearer, and where will they be wearing their suit? What are they trying to communicate to the world around them? And how can we create a suit tailored to their unique style, physique, and gender identity and/or presentation?
LATEST COLLECTION
SUITED BOUDOIR