CUSTOM WEDDING TUXEDOS & SUITS
Make your wedding day truly special with the perfect custom wedding tuxedo! The Tailory New York specializes in creating showstopping, timeless garments that express your personality for your big day!
CUSTOM WOMEN TUXEDO
We at The Tailory can't think of anything sexier than a woman in a custom tuxedo. Since our inception in 2014, we have designed and tailored countless custom tuxedos for our women clients. Since we have a full bespoke approach, we can make any of your custom tuxedo dreams a reality. We can and have made the classically tailored custom tuxedo, custom tuxedos with removable trains, custom women tuxedos with full embellishments to custom tuxedo dresses.
CUSTOM FEMME TUXEDO
Custom femme tuxedos have always been seen as a powerful aesthetic that flips societal norms on its head while simultaneously elevating a look. Viewed by many as a more traditional style of dress, the inclusion of a custom femme tuxedo in your big day is a bold statement and definitely worth exploring. To achieve a look that is singularly YOU, trust The Tailory New York to personalize custom femme tuxedos. Leaving you turning heads, setting the scene, and breaking the binary of traditional wedding garments.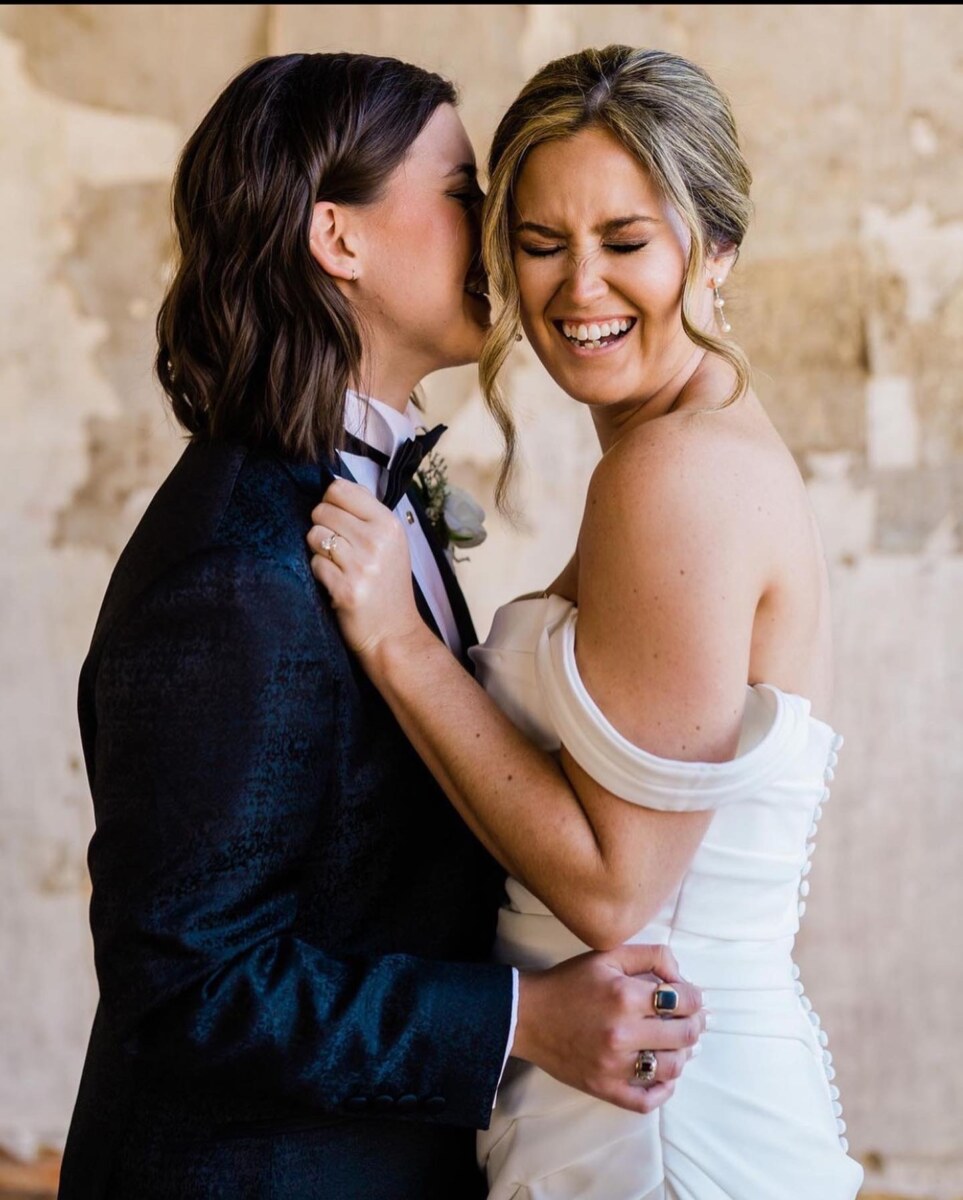 CUSTOM MASC TUXEDO
Representing the utmost style and sophistication, custom masc tuxedos are a bold approach to a traditional design and makes its own unique lane that is truly unforgettable. Our philosophy is that everyone should have a wedding garment that is designed with your specifications in mind. The Tailory New York works diligently with each client by providing assistance that boosts your wedding look to create a strong statement that works seamlessly for your wedding day.
HOW IT WORKS
First time getting fitted for a custom tuxedo ? We make the process as seamless as possible. Here it is step-by-step, and as always, contact us if you have any questions

.
Choose Your Fabric, Lining, and Trim
Browse our extensive selection of premium quality fabrics. We source from the best mills in Italy and the UK and have a wide selection of Barathea fabrics , 100% Italian Silks, the softest wool from Loro Piana as well as specialty fabrics like Italian stretch satins, embellished lace and beaded fabrics. After fabric selection, we move on to select complimentary linings, buttons and trims. Do not worry if you are uncertain what to choose, our designer will work with you from the beginning to ensure you are selecting the best fabrics and trims to achieve the perfect custom tuxedo for you.
Design Your Custom Tuxedo
Get down to the styling details with your designer and design a custom tuxedo that conveys who you are. Comprehensive detailing inclusive of jacket shape, length, shoulders, outside pockets, inside pockets, sleeve buttons and much more. We were not kidding when we say we will design your custom wedding tuxedo from top to bottom and inside out.
Get Measured
We collect 45+ measurements that are a mix of your physical dimensions, the desired dimensions of your garment, as well as posture and fit analysis. For our virtual clients, we take your measurements virtually with our 3D measurement app.
Try On
Approximately 8-10 weeks later, you will be back in our studios to try on your custom wedding tuxedo for the first time. Our in-house master tailor and your designer will go over the fit and determine what alterations are needed if there are any. Yes, sometimes we hit home-runs and no alterations are needed and you can take your custom wedding tuxedo home with you. If alterations are needed, our tailors can turn it around in 2-3 weeks.

For our virtual clients, we will ship the custom tuxedo to you after completion and we will access the fit with you via Zoom. A return label is always included for you to send the tuxedo back to us for alterations.
Final Try On
Usually, only one round of alterations is needed and the final try on is just a fit check and you can take your custom tuxedo home. If additional alterations are needed, we will of course take care of that for you.

We also offer rush services where we can turn around custom wedding tuxedo in 4 weeks and alterations in 2 days.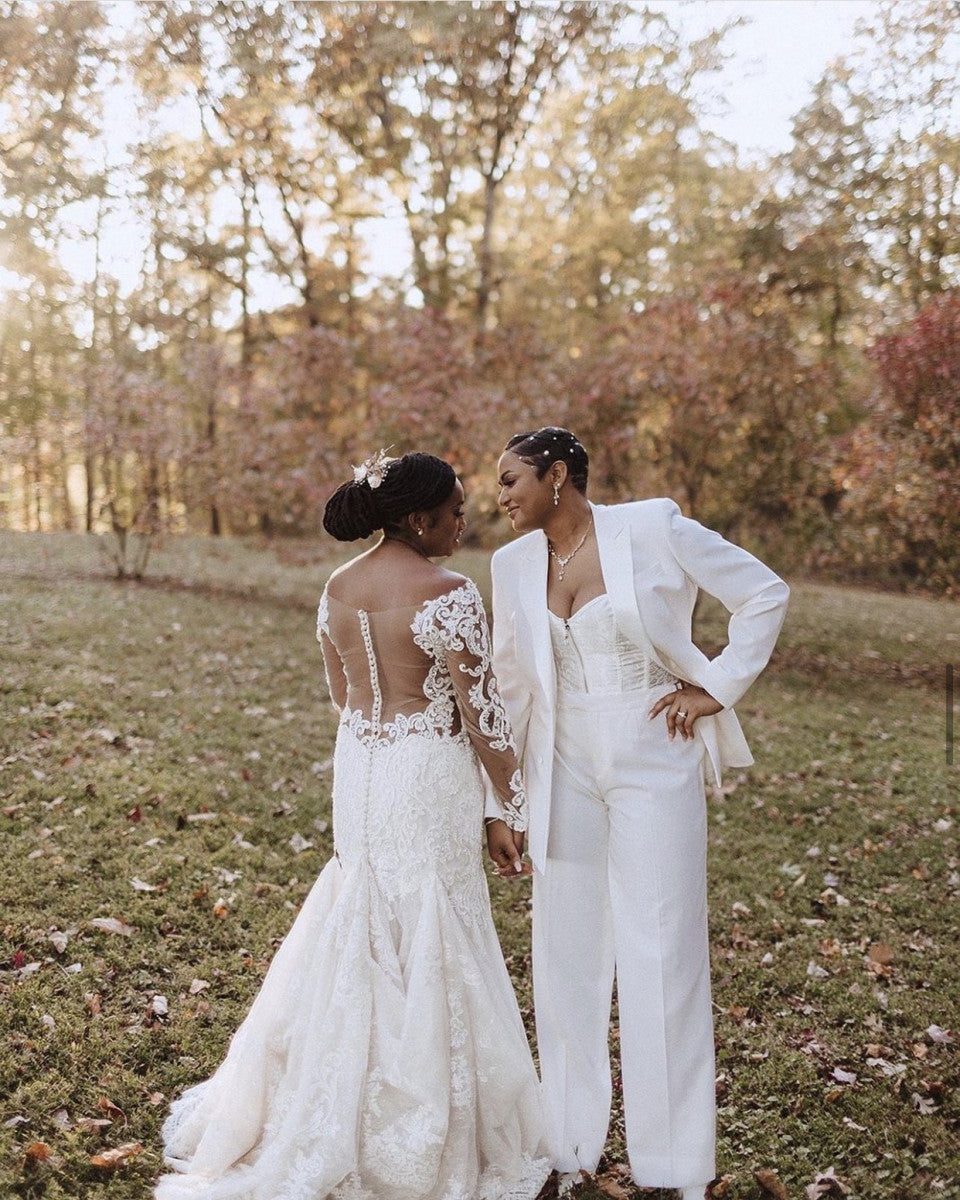 WHY WORK WITH US
Fully Custom
You dream it and we make it, is our motto! Every custom tuxedo we make is one-of-a-kind and we pride ourselves on our ability to make your custom wedding tuxedo dreams a reality. Really, nothing is off limits and everything is achievable. The end result is always a fantastic customer experience, while delivering custom tailored wedding tuxedo that really reflect your personal style.
Clothes That Affirm You
When designing a custom wedding tuxedo, we always ask ourselves: who is the wearer, and where will they be wearing their custom wedding tuxedo? What are they trying to communicate to the world around them? And how can we create a custom wedding tuxedo tailored to their unique style, physique, and gender identity and/or presentation? We have created a safe space for our clients to express themselves freely, and create custom tuxedos that affirms them allowing them to be their true authentic selves.
Expert Team and Experience
Since our inception in 2014, we have been delivering the finest custom tuxedos New York has to offer and we have since expanded globally. We have worked with hundreds of clients worldwide and have over 200+ 5 stars reviews on google.

Our Founder & Creative Director is an alumni of the prestigious Parsons School of Design, where she studied under Tim Gunn. She has gathered a team of expert designers, tailors, pattern makers, and creatives to create both; a world-class custom experience, and best-in-class clothing. As a team, we have over 75+ combined years of industry experience.