Lesbian Wedding Outfits
There are infinite ways to throw a LGBT wedding, and with each one comes a slew of fabulous outfits for you to choose from. But why choose a single outfit off-the-rack when you can have your dream wedding look custom-made in reality?
The Tailory is an appointment-only, women-owned, and operated bespoke clothing company that combines modern fashion design with the heritage art of custom-tailoring. We believe that custom suits are genderless and we cater in equal measure to men, women, and non-binary individuals. We provide our service worldwide and you don't even need to leave your home!
This season, our fashion experts have selected their top three looks in wedding fashion for you to take inspiration from. So whether you're getting married, in the wedding party, simply attending, or looking for sophisticated gay wedding present ideas in the form of a gift card, here is a round-up of our favorite wedding looks for this year's wedding season.
Tailored three-piece suit
A classic that never goes out of style, the three piece suit is a dapper option for those of us that favor a more traditional wedding look. The secret to pulling off this suiting staple? Good tailoring! Go the custom route for a suit that fits your body to a fault. Adding a vest to your suit look ensures you'll look put-together in more than a simple white dress shirt once you remove your jacket to hit the dance floor!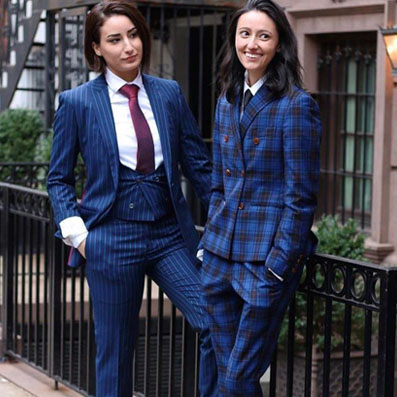 Rocker tuxedo and sheer blouse
The modern tuxedo look merits an unconventional shirt. Inspired by women who rock, our sheer tuxedo blouse is destined to be worn by a bold and daring bride. It's the perfect statement shirt for women who dare to show a little skin. For maximum impact, wear your sheer tuxedo blouse with a subtly patterned tuxedo in a dark and glitzy hue – think glossy blacks, midnight blues, and rich burgundies.
Silk slip dress and beaded blazer
Looking for a look that strikes the perfect balance between your feminine and masculine sides? If you're a fan of lesbian wedding dresses and suits, why not combine both? We recommend going with a form-fitting slip dress in an ivory or blush silk that will flatter your body to perfection. Pair it back to a delicately beaded blazer for a dramatic, structural statement piece that will wow everyone in attendance.
Book an Appointment
How to choose the perfect LGBT wedding outfit
Choosing a wedding dress can be a challenge if your presentation isn't entirely masculine or feminine. Picking between both extremes can feel like a lose-lose situation and inevitable compromise. So how can you navigate the gender spectrum to achieve a look that's both affirming of your unique identity and elevating?
Truth be told, there are far more than two types of traditional lesbian wedding dresses and suits, so don't feel obligated to choose between a frilly white dress or a boxy suit if that's not true to who you are. Here are the key aspects to consider when picking out an outfit for your big day.
Garment
Close your eyes and ask yourself: what kind of garment makes you feel most at home in your body and identity? Is it a white lace dress? A suit or glitzy jacquard tuxedo? Perhaps a beaded jumpsuit with matching cape? Try not to let cultural gender constructs interfere with your fashion choices. What you want to wear is entirely up to you, and you shouldn't have to settle for the sake of appeasing other people's notions of what is gender appropriate and what is not.
Fit
Fit and silhouette are crucial in making a wedding outfit, and getting your garment custom-made allows you to redefine gendered modes of fashion for yourself. Don't go with an hourglass suit silhouette if that isn't true to who you are. Instead, opt for a more androgynous silhouette, with a straighter fit on the hips and waist. It's neither a man or a woman's suit; it's simply your suit.
Attitude
Attitude and comfort are perhaps the most important element when choosing between lesbian wedding outfits. What makes you feel special, powerful, and celebrated? Your fashion choices communicate your singular identity to the outside world, but your confidence stems from within. The right get-up should make you feel like the best version of yourself.
If you're looking for a wedding outfit that perfectly encapsulates who you are, The Tailory is here to give you your dream wedding outfit. Book an appointment today to start designing your custom garment and get measured!
NEWSLETTER
Sign up to receive news and updates.
We respect your privacy. Thank you!
The Tailory New York – Custom Suits NYC
1123 Broadway, Suite 811
New York, NY 10010
Phone: 212-813-1014