2017: The Year of Women in Suits
2017 was a year where #girlboss was less of a hashtag and more of a movement. You could not attend a fashion show or walk down the street without seeing this reflected in the fashion choices of the designer collections, it girls, and style mavens. Power women in suits was a 2017 trend that could not go unnoticed. Perhaps a nod to pantsuit aficionado Ms. Clinton, everyone from Victoria Beckham and Alexander McQueen ditched feminine hemlines for more masculine silhouettes. Christian Dior took a more militant approach showing workwear-inspired pantsuits. Taking fashion cues from Wall Street, Calvin Klein and Alexander Wang showed elevated banker suits in plaids and tweeds with boxy silhouettes.
The female suit has, in the past, been referred to a "borrowed from the boys" look. Past styles have also reflected this boyish style: drab colors, boxy shoulders, and straight cut pants. Often referred to as a power suit, we see nothing powerful about these dated silhouettes and colors. To quote Evan Rachel Wood to THR, "It's like saying power is associated with dressing like a man instead of just feeling powerful in whatever you're wearing." We couldn't agree more, so we're ditching this outdated comparative term. This trend is all about the power woman, a woman with a voice that is louder than ever with a style that reflects that. It is a big middle finger to the idea that a woman must be feminine and delicate in order to be beautiful. However, we feel the lady suit is also the epitome of femininity. It is a symbol of strength, good taste, style, and being comfortable in one's skin. This season's suits have been reimagined and revisioned with today's woman in mind.
In addition to the looks we saw on the runways, street style stars were all business this year. Hanging outside of all the hottest shows, girls were dressed in suits of all shapes, sizes, and colors. Bold brights were a popular choice among the best dressed. Many femmed-up the look with a strappy stiletto or fur stole.
From red carpets to nights out, celebs too were following suit. Though we saw multitudes of A-list ladies rocking a suit this past year, there are 5 who particularly stood out.
1. Cara Delevigne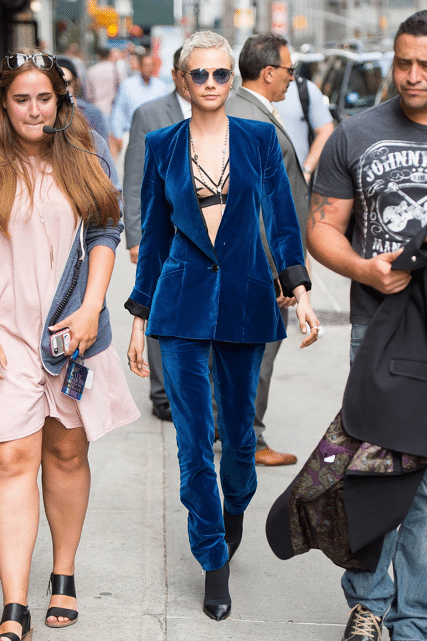 Ray Tamarra/GC Images
In the dead of the summer, the streets of NYC became Cara's runway when she was spotted wearing a blue velvet suit by Mugler. Never the one to let gender norms constrict her, Cara also didn't let the heat stop her from rocking this smoking jacket and trousers. Loosely fitted with sleeve cuffs rolled, Cara glammed up this dapper look with a sheer bralette, rosary style necklace, and blue-tinted sunnies.
2. Janelle Monae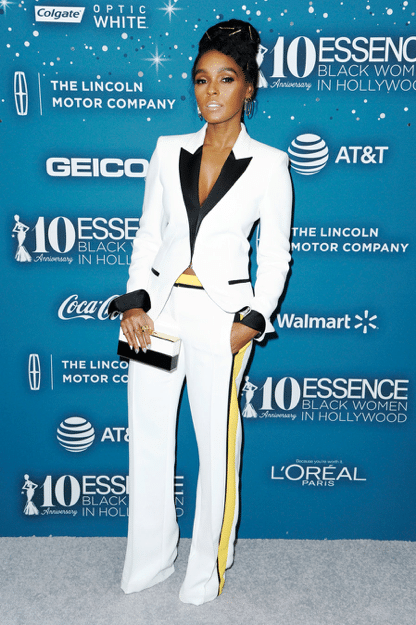 Richard Shotwell/Invision/AP
This vocal powerhouse and actor is no stranger to the suit. Known for being unapologetic about being true to oneself regardless of what people say, Monae in a suit is a statement of uniqueness and a message to women to be proud of themselves. At the 10th Annual Essence Black Women in Hollywood Awards, Monae sported a white tailored Barbara Bui suit with black and yellow accents. Relaxed fit trousers and rolled sleeve cuffs created a polished yet comfortable look.
3. Octavia Spencer
BEI/Shutterstock
Spencer was a vision at this year's Golden Globes. While most opted for elaborate tulle and bedazzled ball gowns, Octavia took a more refined and simplistic, but nonetheless striking route. In a navy tailored suit with tuxedo pants, the actor looked classic and comfortable. With a pair of velvet platforms, cascading earrings, and a showstopping emerald ring, a little glitz and glam rounded out the ensemble to create a completely stunning look.
4. Kim Kardashian West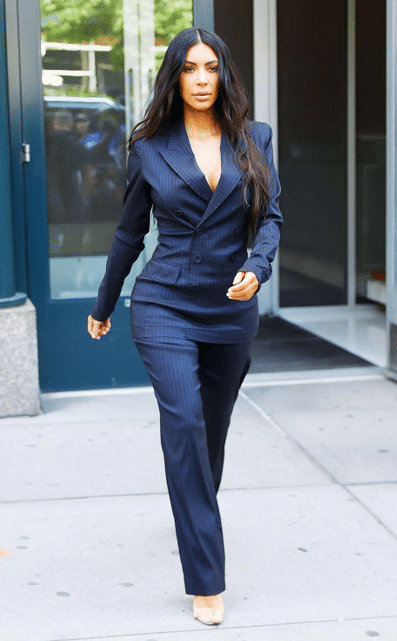 Getty Images
The ultimate A-lister attended the Forbes Women's Summit in a vintage Jean Paul Gaultier pinstripe business suit. In true 80s fashion, the suit was complete with shoulder pads and a double-breasted jacket. The reality star and entrepreneur Kim K'ed it up a bit by forgoing any undergarments beneath her jacket and slipping on some strappy sandals.
5. Evan Rachel Wood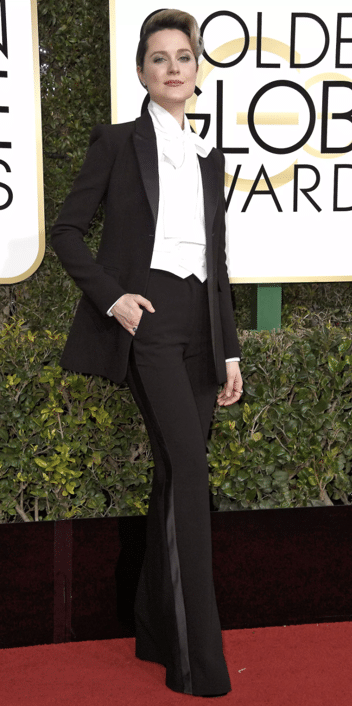 Frazer Harrison/Getty
Channeling Marlene Dietrich and David Bowie, Evan Rachel Wood stepped out on this year's Golden Globes red carpet in a stunning 3-piece custom suit by Altuzarra with a flared tuxedo pant, long fitted jacket, and white vest. Wood made a decision to exclusively rock pantsuits at this past year's award shows to let young girls worldwide know that dresses are not a requirement of woman or girlhood.
The women's suit is not about mimicking menswear. It is a statement of individuality, confidence, and strength, a mirror of womanhood. As we close out 2017, the suit becomes a symbol of showing that we are here, strong, beautiful, and exquisitely dressed. This is no gender role reversal. This is the new normal.
At The Tailory, we create custom suits in NYC tailored just for you. You're one-of-a-kind. Your clothing should be too. Let us dress you.
Book an Appointment