Androgyny: A Balancing Act
Truth be told, we don't like to refer to our NYC custom suits as either masculine or feminine. We've pretty much eradicated these terms from our vocabulary, and therefore they do not hold much importance in our design process, which is more or less genderless in approach.
We like to think of the custom suit as a unisex garment. Even though its origins are associated with masculinity and formality, we want to believe our women clients should be able to rock a power suit without feeling like they are cosplaying as businessmen.
However, we've learned to incorporate an awareness of gender and gendered clothing into our gender-neutral design process. While we strive to create an environment in which clothing doesn't, and shouldn't, have to communicate how one feels and identifies in binary terms, these antipodes hold societal significance that we cannot ignore.
It is important for us to understand which design elements communicate more of one presentation over the other to help our clients navigate the world with confidence and self-assurance.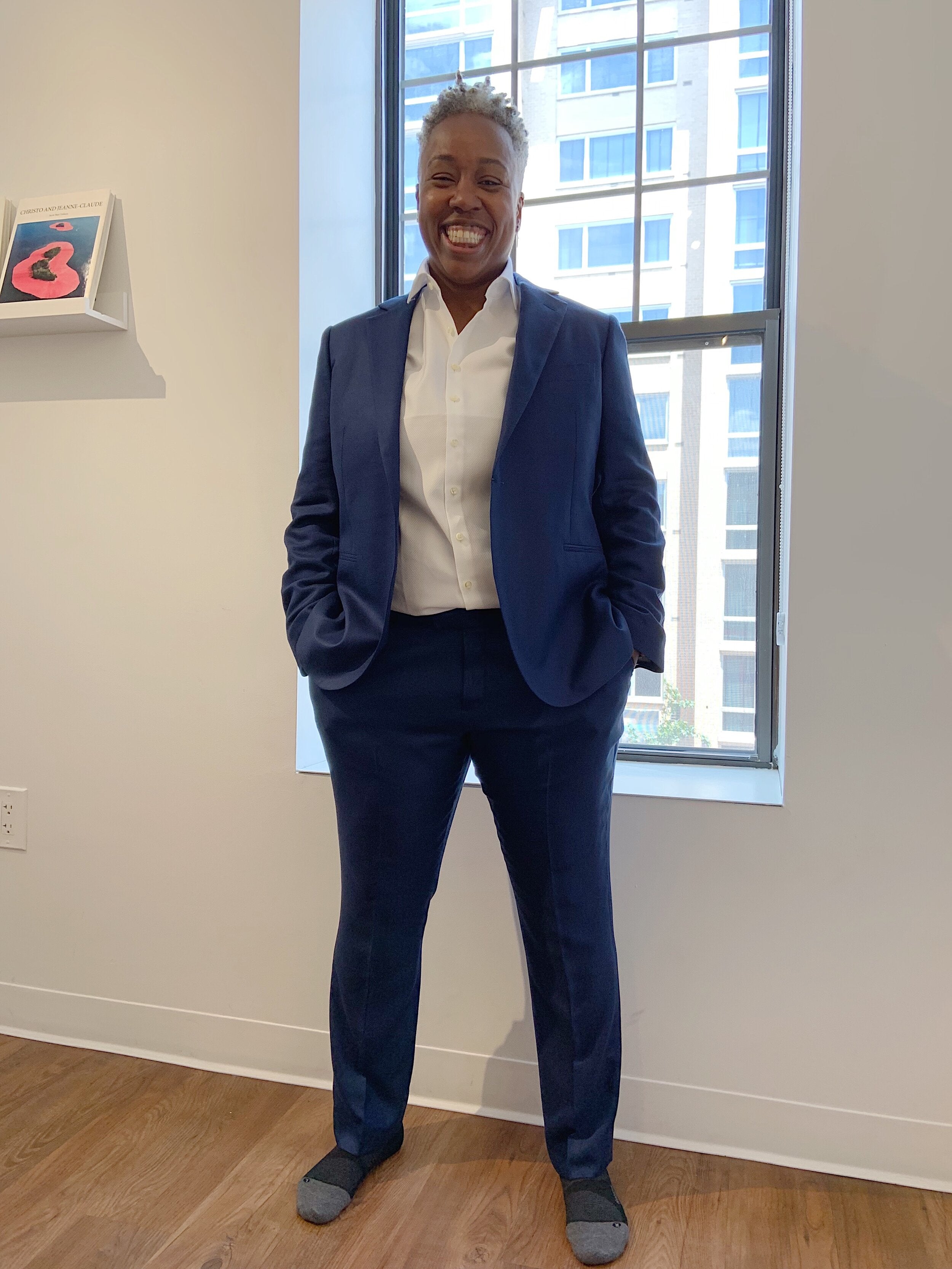 A masculine silhouette sits farther from the natural waistline while still minimizing negative space in the chest. A sight nip at the waist is the mark of a properly tailored suit.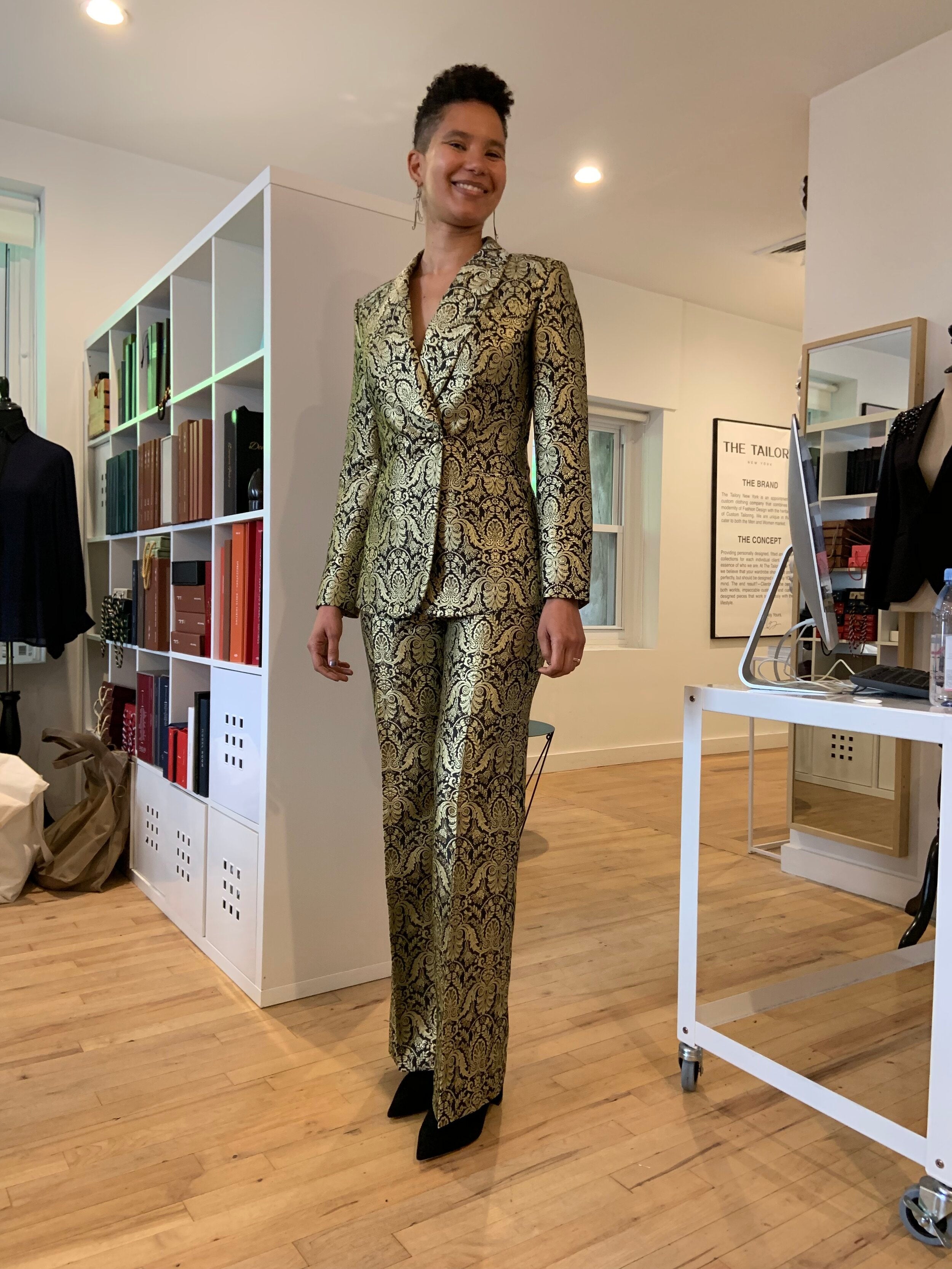 A classically feminine suit silhouette sculpts the waist and sits close to the body. Notice how the jacket covers half of the seat and doesn't flare out at the hips for a more modern look.
Generally speaking, a straighter, slightly roomier jacket with sharp shoulders is associated with a more masculine silhouette, while a shorter jacket that nips in at the waist and flares out a little at the hips to create an hourglass silhouette will read as more feminine.
Of course, convention exists to be cast aside. Many of our women clients are looking to strike a balance between both extremes for a more modern interpretation of suiting that falls somewhere along the spectrum of gender presentation. Our goal isn't to put women in a men's suit, but rather to repurpose classic suiting elements for the modern wearer.
With that said, here is our breakdown of how to achieve a more androgynous suit look:
A notch lapel is the most classic option. It offers a straighter silhouette than a peak lapel, which creates an inverted triangle silhouette that can emphasize the chest area.

A regular, functioning chest pocket to break up chest space and convey a classic suited look.

The four functioning buttonholes on the sleeves repurpose classic men's suit features for the modern woman.

Double besom pockets deemphasize the hips, whereas flap pockets can easily veer into peplum territory.

A straighter waistline contributes to a more androgynous silhouette that is neither boxy nor hourglass in shape. A single button in the front allows for a lower button stance, which gives the wearer a slightly slouchy, more modern suit look.

A medium jacket length that hits at the middle of the hips. Neither cropped nor longline, this length covers enough of the seat to work in formal settings without drowning the wearer in fabric.

Functioning pockets on the pants and inside the jacket give you the option of going about your day light on your feet without all the fuss that comes with carrying a bag.

Side tabs add a nice sartorial touch you wouldn't usually find off-the-rack.
These are just general guidelines for how to achieve a genderless look, and each client will have different preferences for the look and feel of their suit.
Book an appointment today to create a suit that defies expectations.