The Tuxedo Refedined: Exhibition Breakdown
The Tailory was honored to take part in the NYU Costume Department's 2020 exhibit, The Tuxedo Redefined. According to the curators, "The Tuxedo Redefined identifies ways in which the tuxedo has been formally and conceptually incorporated into women's dress, and why this ensemble retains an element of subversion in contemporary fashion." On display next to Chanel's Fall/Winter 1987/88 Tuxedo Dress was our Fall/Winter 2015 Backless Tuxedo. It was extremely humbling to see our suit next to one of Karl Lagerfeld's creations. See the abridged exhibition caption below:
"…At The Tailory New York, Yang creates clothes for the person who will wear them, adapting male suiting pieces into custom designs for a diverse clientele that includes men, women, and non-binary individuals. This women's tuxedo showcases ways that the traditionally masculine uniform has evolved when fashioned for a variety of individual body types. Though the jacket front appears to be classically tailored with satin lapels, the back of the garment incorporates an atypical cut-out, that adds a uniquely feminine touch to the otherwise classic suiting style. By incorporating this display of skin—traditionally reserved for womenswear designers wanting to create a sense of sex appeal in their work—with the more traditional tailoring of the jacket, The Tailory redefines the sensual potential of the tuxedo."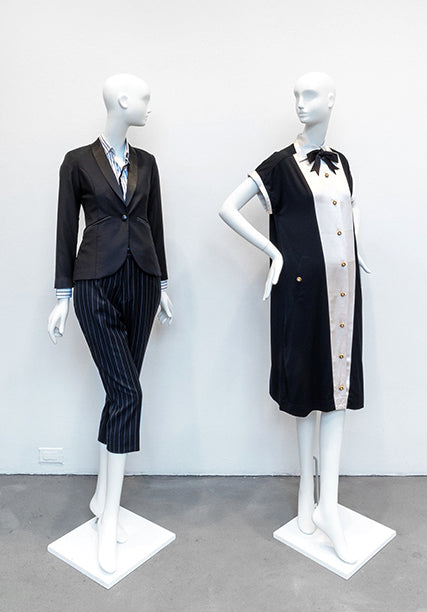 For masculine-presenting women, trans men, and non-binary individuals, the tuxedo possesses the ability to affirm one's gender identity and/or gender presentation. Yes, the idea that traditionally masculine attire grants access to and mobility within male-dominated spaces still remains, but it carries an added personal significance. Many of our masculine-presenting queer clients wear a tuxedo not because they prefer it over wearing a floor-length gown, but rather because it is inherently linked to their identity.
We have noticed a new trend pertaining to how women wear the tuxedo. It no longer has to be sexualized to be subversive or powerful. Generally speaking, when a tuxedo is figure-hugging or worn bare-chested, asserting a woman's femininity by bringing it to the foreground, it is done with the aim of being more palatable. Although we believe a woman can choose to wear a tuxedo in whichever manner she likes, wearing it in a sexual manner actually carries an element of conformity.